Founder ~ Author ~ Poetess ~ Speaker
Carolyn A. Watson
Carolyn A. Watson has years of experience as a creative writer, speaker and voice talent. If you're looking to bring a motivational message coupled with an artistic presentation to your next event or occasion... your search is over!
Carolyn A. Watson has always had a desire to answer God's calling on her life. However, as a young single mother she found herself struggling, juggling bills and battling the challenges to win betterment of life for herself and her daughter. Against all odds, she persevered, and today as an accomplished founder, CEO, author, poet, speaker and humanitarian her work has inspired women of all ages from around the world.
Facets of Life, Inc. was introduced to the world in 1991, as the name of her Dallas-based business through which she sold customized poetry baskets and personalized gifts. Her work as a business woman and entrepreneur have been featured in magazines, radio and television highlights. She has received letters of recognition from a diverse group of dignitaries—including Nikki Giovanni, former Atlanta Mayor Shirley Franklin and former President George Bush, Sr., to name a few.
As an author, Carolyn feels blessed to have penned: Thinking Positive in a Negative World and Clay In The Potter's Hand; and co-authored: Conversations of Courage "Stories of Success, Hope & Possibility." She is a premier writer for Zoe Life ~ A Daily Devotional book series. Her real-life compilations have been featured yearly since its inaugural release in 2012. Carolyn is exceptionally excited about the upcoming release of her newest book entitled: Sugar, Spice & Everything Christ "Understanding the Wealth of a Woman's Worth."
Over the years, Watson's voice-over talent has graced various projects. And as an aspiring actress she starred in several stage play productions. She has also written, directed and produced her first documentary entitled: "Living in Liberia" in supporting the mission's work of her church, New Life in Decatur, GA.
Today, Watson is busy operating her daily labor of love: Helping Oppressed Mothers Endure, Inc, (H.O.M.E.) a 501c3 nonprofit established to aid single mothers in rebuilding their lives after divorce, domestic violence and experiences of hardship. She was given this vision by God to provide struggling moms with new and gently used furniture as means of starting over—starting anew.
Carolyn is incredibly grateful to be a mother and doting grandmother. She resides in Lithonia, Georgia, with her husband, Leotis, of 33 years who is still the adoring love of her life and the wind that enables her to soar in all the Lord calls her to. One of Carolyn's strongest beliefs is: "No matter life's circumstance … God has a reason for that."
Give your audience the encouragement they need to find peace in knowing that God is shaping, molding and making us exactly who He created us to be. Invite Carolyn's anointed gift to WOW your audience. Some of her most soul-stirring topics include:
Thinking Positive...Living Positive...Being Positive
Anchored by my Armor
Applauding Others - Appreciating Self
Two Conflicting Forces in One Human Heart
Seasoned in "DEW" Season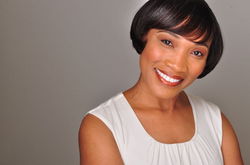 Publications: Books of Poetry
'Clay In The Potter's Hand' is a book that takes you on a spiritual journey in mortal life. It steps into the battle of worldly issues and serves as a vehicle to escort you to safety--found only in the arms of Christ. In the midst of it all...peace prevails. All board this soul-searching voyage! Grab your sword, shield and prepare to encounter Love...Hope…Faith…and Power!
'Thinking Positive in a Negative World' will refresh your mind and expose your thoughts to what people think—but often will not say. In this poetic piece, Carolyn reflects on her youth and peel back the layers of dysfunction that gave birth to her walk with Christ. Out of the mouth of a babe wisdom speaks and reveals the pain and confusion of trying to live and think positive...in a negative world.
Facets Of Life Poetry Collection, Inc. Lithonia, GA 30058 Phone: 470-33-FACET
Join me in supporting a great cause! H.O.M.E. is an organization founded to help Single Women with children survive the 'tough times' and persevere towards an 'appointed time' for success in life. We provide immediate resources to rebuild, restore and refurnish rooming housing, apartments, duplexes and permanent homes of Mothers emerging from divorce, domestic violence, just starting out or in desperate need of starting over.